Click here for a current list of Accessible ESL class opportunities in central Iowa as well as those provided throughout the community by other non-profit organizations on WelcometoIowa.org.
When Iowans first welcomed refugees in the 1970's Governor Ray set up a task force to identify jobs and sponsors. Over 30 Iowa communities responded. Hundreds of churches and thousands of volunteers provided support. Volunteers staffed
programs in churches, schools, and service agencies to teach
English (ESL) and life skills — 78 counties had such programs.
This model has disappeared, along with other critical supports. The medical and cash assistance in 1978 covered three years of support. Today, rent assistance covers only 90 days. Think about it: how can a refugee from Myanmar, Nepal, Sudan, Somalia, Congo, Iraq or any other country be able to find a job, housing, transportation, learn English and adapt to a completely new culture in 90 days? How can families succeed in this new environment?
The Iowa International Center is responding by bringing the resources refugees need to accessible locations around Des Moines, including apartment complexes, churches and schools.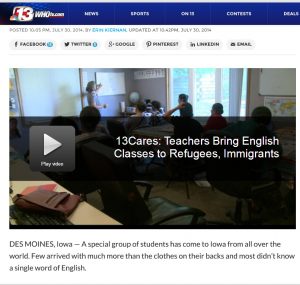 Beginning with a pilot project launched at the Deer Ridge complex, we teach critical skills including reading and writing English and provide assistance in finding better jobs in central Iowa.  We now partner with Deer Ridge Apartments, Zion Lutheran Church and the Des Moines Public Schools, while continuing to forge relationships and opportunities with other local cultural organizations to expand the reach of this effective program.  Check out WHO TV 13's story about how our Accessible ESL classes continue to bring hope and opportunity to refugees in Des Moines. 
The Iowa International Center is able to provide Accessible ESL Programs to refugees and immigrants in our community through donations given to our Ray Resource Initiative, a three-year campaign to maintain and grow educational opportunities and access to multilingual resources for new Iowans, with the vision of former Governor Ray.
Why is this important? This project responds to the most urgent and immediate needs of refugees and immigrants in Iowa and provides an invaluable new resource for them to help them become successful and productive citizens in our communities.
Give in the spirit of the Ray Resource Initiative to support the Iowa International Center and
welcome new Iowans into your community