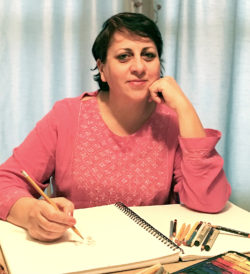 Sadagat Aliyeva
With an unstoppable energy, Sadagat Aliyeva has always pursued opportunities to engage and create art. Sadagat
grew up in Azerbaijan. She earned her master's degree from Azerbaijan State University Culture of Arts in Theatre and worked for Yug State Theatre as a Literary Manager. While there, she met her husband, Qayyum, a director at the theatre who earned his master's degree in Directing from the Russian Theater Academy in Moscow.
Sadagat and her family emigrated from Azerbaijan in 2004, escaping unrest from the conflict between Azerbaijan and Armenia. When they arrived in Iowa, the family lived in a bare-bones apartment without a phone, vehicle or knowledge of English. Sadagat took ESL classes at churches and, after Qayyum became employed, took courses at Des Moines Area Community College, eventually earning an Associate's Degree in graphic design. Sadagat says of those early years that she relentlessly read the newspaper, looking up works in the dictionary, memorizing them, and reading stories in English to her children. "I didn't pronounce the words correctly; I read anyway."
As a Library Assistant at Clive Public Library, Sadagat developed a free weekly improvisational theater class for adults who want to practice their English at the library, and she offers a similar class to the neighboring senior living complex as part of the library's outreach program. Sadagat volunteered for several seasons with the Whippoorwill Children's Theater in West Des Moines, designing and building sets for productions. She volunteered to run theater camps at Pilgrim Heights and Moore Elementary School where she helped kids write their own scripts and perform their original works. She has directed "Leading Ladies" at Des Moines Onstage, and "Palace of Fields" by local writer/composer Renae Angeroth. In her spare time, Sadagat writes and illustrates books for children.

Nancy Mwirotsi

Nancy Mwirotsi is a leading technological revolution living right under our noses! Nancy came to the United States from Kenya in 1997 as a college student. After graduation she worked at a variety of companies, including having a successful career as a Realtor, before recognizing the need for technology trainings for refugee and other underserved youth populations in Des Moines. In 2014, Nancy founded Pursuit of Innovation (commonly known as PI-515) and dedicated herself to running the organization full time.
Several times a week Nancy climbs into a 15-passenger van to pick up students from all over Des Moines and she has been known to go door-to-door to connect with children and parents to recruit more. The students come from homes where computers are seldom found.
In fact, Nancy is teaching kids how to succeed with marketable skills in the technological sector and, at the same time, foster more diversity in the technology workforce. Most of the kids she works with are themselves refugees or are the children of refugees. She is a mentor and driving force to the students she serves. Nancy and her team of dedicated volunteer teachers, who also come from diverse backgrounds, commit themselves to making technology accessible and challenging, inspiring and empowering the students to succeed.
Nancy continues to create partnerships with the Des Moines technology and business communities who share her vision in seeing more students from underserved populations achieve success. Nancy's work has garnered much attention over the last three years and in 2016, she was named one of the "15 People to Watch in 2016". She was also a finalist for the Iowa Women of Innovation: STEM Champion and Diversity Champion.
Sanjita Pradhan
Sanjita Pradhan has been a tireless advocate for refugee communities since she first stepped onto American soil, working to make sure fellow immigrants not only survive but also thrive in their new country. In 2006, Sanjita had a rising career in Nepal, but as political instability and civil war continued to rage, Sanjita and her family made the difficult decision to leave, coming to America through a Diversity Visa. Once here, Sanjita took an entry level position as an insurance call center operator and in less than three years, she was a marketing coordinator for Principal Financial Group. As she navigated through her new culture and systems, she decided to use her struggles and experiences to bridge the gap for new immigrants. Since then, she has never lost sight of the challenges refugees face when starting a new life in the United States.
Having grown up in a family of teachers and civil servants, civic engagement has always been an important part of Sanjita's life, but today it has become her passion. In 2015, her tireless efforts on behalf of refugees brought her to the attention of the White House Initiative on Asian Americans and Pacific Islanders (AAPI), and she was appointed by President Barack Obama to the President's Advisory Commission, giving her many opportunities to host grant writing workshops and roundtables where federal official from HUD, USCIS, Commerce, SBA and HHS heard from and responded to the concerns of AAPI Iowans.
While maintaining her full-time employment at the Iowa Department of Human Rights, Sanjita has traveled around Iowa extensively to give talks aimed at greater understanding of refugees and immigrants. Through a Civic Engagement Initiative, Sanjita has helped approximately 400 new Iowans register and learn about the importance of voting. In 2015, she founded the New Iowan Summer Youth Leadership, an annual program for children that accepts 30 new Iowans, mostly refugees, who take field trips to potential employers and attend classes to learn about going to college, financial aid, and career pathways. Sanjita's other community outreach includes helping to organize the annual CelebrAsian Festival, and working on various social events for the Iowa Nepalese Association.
Harold and Carol Hill
Recipients of the Judith Conlin Welcoming the World Award
Harold served six three-year terms on the Board of Directors and served as President in 2016, before retiring in June 2017. Both Harold and Carol are long-time volunteers who have hosted several hundred international visitors and continue to support IIC's work with refugees and immigrants.