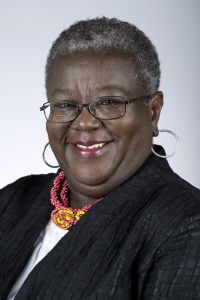 Dr. Jane Agyeman came to the U.S. over thirty years ago to continue her education at Iowa State University.  She was able to bring her five year old son with her but had to wait almost ten years in order for her oldest son to get his visa. Soon after her arrival, Jane found herself in an abusive situation; Jane not only managed to protect herself and her son, she worked part-time at the sexual assault center helping other women who were victims of domestic violence. As a single mother, she worked three part-time jobs and was able to maintain a full-time schedule at college. 
She earned bachelors, masters and doctoral degrees from ISU and then was hired in the TRIO Upward Bound and Educational Talent Search offices. Dr. Jane Agyeman is the Director of the TRIO programs and works with students who are first-generation and income-eligible and helps them plan and prepare for college. Jane's own story is similar to the students to whom she has provided leadership. She is an advocate for all students who need the extra help and support to attain a college degree and she understands the burdens that are placed on first-generation and income eligible students and their families. She has been a very strong voice for Iowa's youth and education when working with our members of Congress and she is very active in civic and community activities.
Jane also personally meets with the parents of all new Upward Bound students during home visits to explain the opportunities and benefits of the program and with the TRIO programs annually serving over 1050 students, that's an impressive number of home visits! As a native of Ghana, Dr. Agyeman is able to use her unique experiences and perspective in mentoring individuals of all backgrounds, both students and staff.