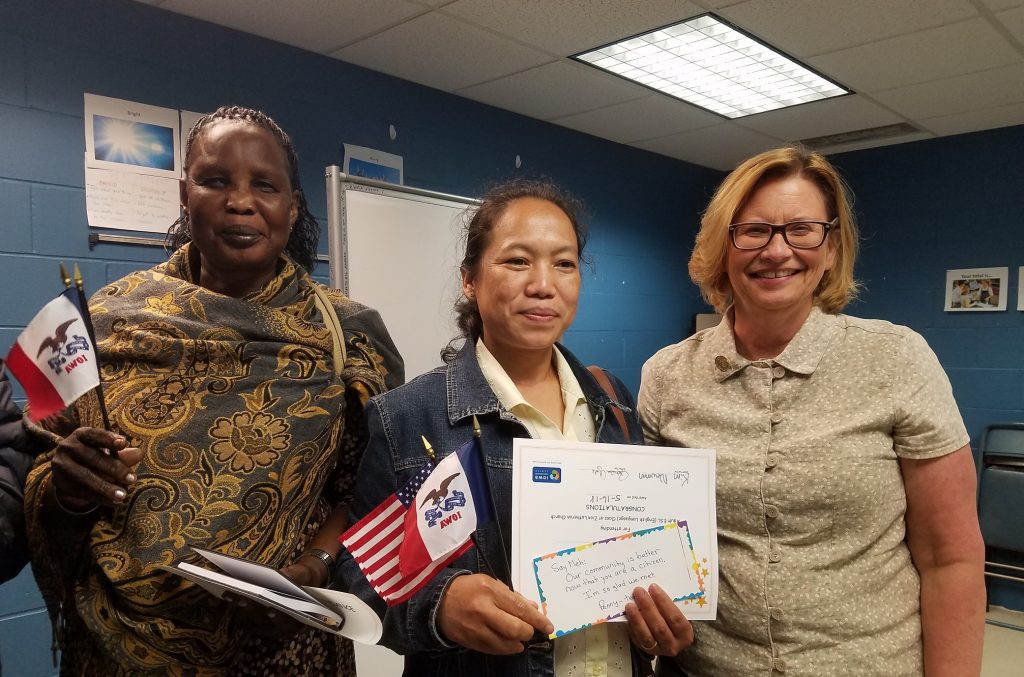 Iowa International Center's Accessible ELL Program provides English language instruction to 100 students in the Greater Des Moines community. The program seeks to remove or minimize barriers faced by adult English language learners (ELLs) by offering classes where people already gather or have familiarity, such as apartment complexes or churches. Our goal? Give ELLs the support they need to improve their English language skills and their confidence, ultimately leading to increased community involvement and economic success
COVID-19 Update
All accessible Adult ELL classes have been suspended for the time being. If students are interested in attending virtual conversation  through their phones or computers, please contact Patricia Grote at pgrote@iowainternationalcenter.org or call (515) 282 8269 ext. 13 
How can you help? The Iowa International Center is in need of  volunteers who are willing to support our ELL classes. Contact Patricia Grote regarding interest: pgrote@iowainternationalcenter.org, or 515-282-8269 x 13.
Accessible ELL Programs to refugees and immigrants in our community are possible through donations given to our Ray Sustainability Initiative for Multilingual Services, a endowment to maintain and grow educational opportunities and access to multilingual resources for new Iowans, with the vision of former Governor Ray.
Give in the spirit of the Ray Resource Initiative to support the Iowa International Center and
welcome new Iowans into your community
History and Additional Information
When Iowans first welcomed refugees in the 1970's, Governor Ray set up a task force to identify jobs and sponsors. Over 30 Iowa communities responded. Thousands of volunteers provided support, staffing programs in churches, schools, and service agencies to teach English and life skills.
This model has disappeared, along with other critical supports. The medical and cash assistance in 1978 covered three years of support. Today, rent assistance covers only 90 days. Think about it: how can a refugee from Nepal, Sudan, Somalia, Congo, Iraq or any other country be able to find a job, housing, transportation, learn English and adapt to a completely new culture in 90 days? How can families succeed in this new environment?
The Iowa International Center is responding by bringing the resources refugees need to accessible locations around Des Moines. We are continuing to forge relationships and opportunities with other local cultural organizations to expand the reach of this effective program. Check out WHO TV 13's story about how our Accessible ESL classes continue to bring hope and opportunity to refugees in Des Moines.