Remembering Cyndi Chen
We were sorry to hear of the passing of Cyndi Shiou-Hua Chen on March 7.
Cyndi, a longtime friend to the Iowa International Center, was recognized in 2010 as a Passport to Prosperity honoree and served as an Iowa International Center board member. Cyndi was born March 7, 1951 in Taipei, Taiwan and came to Iowa in 1985 as a visiting scholar to teach Chinese language. She married Frank Edward Affannato in 1987. She began working at Drake in the Fall of 2012, teaching Beginning Chinese I, Intermediate Chinese I and Chinese Language and Culture.
Cyndi had Bachelors degrees from Soochow University in Taiwan and Buena Vista University in Storm Lake, Iowa, a Master's degree from University of South Dakota, and had completed her doctorate coursework in Adult and Higher Education Administration also at South Dakota.
Cyndi's work experience included international trade, social service, public administration, and teaching. She also co-edited a textbook in business Chinese writing.
Cyndi's approach to life was: "Live one day at a time and make it a masterpiece." A memorial fund has been established at The Community Foundation of Greater Des Moines, 1915 Grand Avenue, Des Moines, Iowa 50309.
Board Member Li Zhao Featured in Business Record
Check out the cover feature of this week's Business Record for a wonderful story about Li Zhao, president of China Iowa Group. In the article, Li discusses the impact of a Branstad ambassadorship on trade with China. Li was an Iowa International Center Passport to Prosperity Honoree in 2014. She has served as an Iowa International Center Board member for the past three years.

The Iowa Intenational Center's Dialogue Series at Meredith Corporation
Meredith Corporation and the Iowa International Center (IIC) are continuing their partnership to offer IIC's popular Dialogue Series of free cultural education programs for Central Iowans.
Each program will take place in Meredith's Conference Core from Noon to 1:00 p.m. Attendees are welcome to bring lunch or purchase food from Meredith's cafeteria, located by the Conference Core. Free parking is available in the on-site parking ramp at 17th and Locust streets, open for public use from 11:00 a.m. to 1:30 p.m. on scheduled program days. Signage will direct people to the meeting space.
The 2017 Dialogue Series will continue with the following presentations:
• The Meeting Point: How the Organization Uses Journalism to Advance Diversity and Inclusion in Iowa
Tuesday, May 9
• Helping Hands: Stories from the 2017 Passport to Prosperity Honorees
Tuesday, September 12
• Worth a Thousand Words: Bringing People and Cultures Together Through Photography
Tuesday, November 14
Love to Organize Events? Play a Part in Passport to Prosperity – September 30 at Drake University
Have you ever attended the Iowa International Center's Passport to Prosperity dinner? We're looking for individuals to serve on a planning committee for this unique and inspiring fund-raising event that honors a select number of immigrants and refugees in Iowa, and includes dynamic cultural entertainment and a delicious menu representative of the native countries of each recipient. To join, call Pat Grote at 515-282-8269 or email: pgrote@iowainternationalcenter.org.
Trump's Latest Travel Ban

The Iowa International Center remains committed to assisting refugees and immigrants—from providing emergency interpretation services and ESL classes, to offering programs on diverse conversations and online resources via our Welcome to Iowa web site.
The Iowa International Center, along with our fellow Iowans, make Iowa a place of welcome and opportunity and where character counts. We stand for people and perseverance. Now, more than ever, organizations that assist and advocate for immigrants and refugees need support! Stand for hope. Stand with refugees and immigrants. Stand together. Stand with us. Here's what you can do now: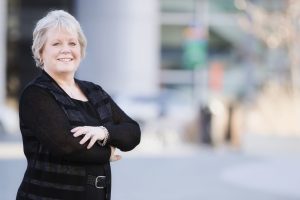 Meet Our New Executive Director – Patricia Grote
The Iowa International Center (IIC) welcomes Patricia Grote as its new executive director. She replaces Dr. Judy Conlin who retired January 13.
In addition to overall operational responsibility for the organization, Grote plans to focus on fundraising and community engagement, including such events as its monthly Dialogue Series and its annual Passport to Prosperity event, which honors new Iowans who have made significant contributions to Iowa and their communities.
Patricia Grote has spent much of her career in the nonprofit sector. IIC Board President Brendan Comito said his hiring committee appreciates that Grote "already recognizes the diverse contributions every individual makes to our community's strength and vibrancy."