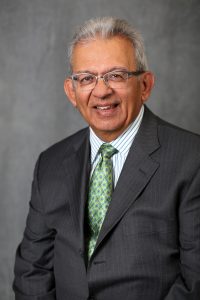 Suku Radia is Chief Executive Officer of Bankers Trust, a position which he assumed in March 2008. Bankers Trust is Iowa's largest independent community bank with consolidated assets exceeding $4.0 billion. Prior to joining Bankers Trust, Suku served as Chief Financial Officer of Meredith Corporation for eight years. Meredith is a NYSE company and is the nation's leading diversified media company.
Radia was Managing Partner of KPMG in Des Moines from 1993 to 2000, where he enjoyed a 25-year career. He earned a Bachelor's of Science Degree, with Distinction, from Iowa State University and became a Certified Public Accountant in 1975, when he joined KPMG. He has been active in a number of professional, economic development, educational and charitable organizations.
Highlights of his community involvement include: Tournament Chair – 2017 Solheim Cup, Member – Federal Reserve Bank's Community Depository Institutions Advisory Council, Vice Chair and Executive Committee member – Board of United Way of Central Iowa, 2009 and 2016 Campaign Chair – United Way of Central Iowa, Executive Committee – Community Foundation of Greater Des Moines, Executive Committee – Drake University, Board Chair – Mercy Medical Center, Member – Iowa State University Foundation Board of Governors, Member – Iowa State University Dean of Business College's Advisory Council, Past Chair – Bravo (arts and cultural alliance for Central Iowa), Past President – Rotary Clubs of Des Moines and West Des Moines, Past Chair – Greater Des Moines Partnership, Past Chair – Greater Des Moines Committee, Past President and founder – Greater Des Moines Junior Soccer League, Past Chair – Better Business Bureau of Iowa, Leadership Chair – Oakridge Neighborhood Campaign, Past Board Member – Des Moines Golf & Country Club and at least another dozen civic organizations.
Additionally, Radia is the past recipient of Iowa State University's Alumni Merit Award (2012), Des Moines University's Glanton Scholarship Award (2011), Iowa State University's Citation of Achievement Award (1995), United Way's Tocqueville Society Award (2005), Mr. Habitat for Humanity (2006), American Diabetes Association Honoree (2008), Iowa Council for International Understanding-Passport to Prosperity Award (2009), Spirit of Philanthropy Award (2009) and received the Immigrant Spirit Award (2015). In 2010, he was inducted into the Iowa Business Hall of Fame and was also named the OneIowa Business Leader of the Year. He has been the convocation speaker at Iowa State University (2000), Drake University (2008) and Simpson College (2012).
He was named Best Metro Business Leader (2012, 2013, 2014 and 2015), Best Minority Business Leader (2012, 2013, 2014 and 2015) and Most Influential Business Leader (2013, 2014, 2015 and 2016).
Born and raised in Kampala, Uganda, Radia came to the United States in 1971 to attend Iowa State University. Currently, he resides in West Des Moines, Iowa, with his wife, Dr. Mary Radia, a Rheumatologist. A son, Ryan, is the Technology Policy Director at a Washington, DC think tank, Competitive Enterprise; a daughter, Renée, is currently pursuing her MBA at the University of Southern California; and a daughter, Natalie, is pursuing her Master's degree at Columbia University.